MARDI GRAS WORKSHOP
2020 Clinicians
We are honored to announce our clinicians for the 2020 Mardi Gras Workshop: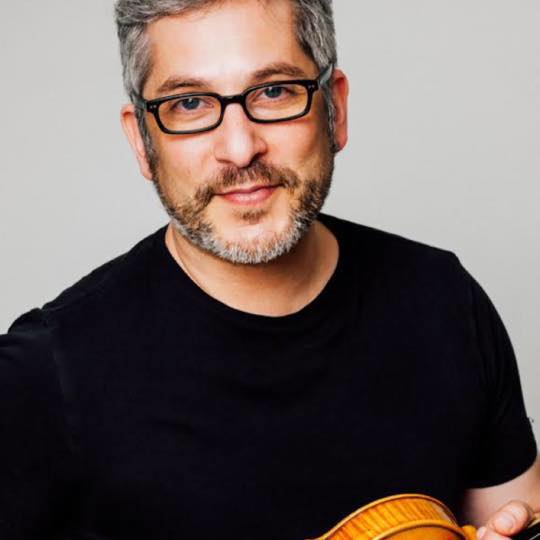 Gabriel Bolkosky, Violin
Gabriel Bolkosky has performed and taught across the United States and abroad. He performs a diverse repertoire of classical and contemporary works, collaborating with different artists from many genres of music making.  Over the last decade, Gabe has founded and directed the music festival, PhoenixPhest with the intent of creating an environment open to all levels and ages of musicians, creating a more holistic musical experience without sacrificing quality.
Gabe's performances have focused in the areas of contemporary music, jazz and tango as well as traditional classical music.   He has collaborated with many composers, among them Fredric Rzewski, William Bolcom, John Harbison, Thomas Ades, Bright Sheng, William Albright, Andrew Kirshner, Lars Holmer, Carter Pann, Michael Daugherty, George Tsontakis, Derek Bermel, and Bernard Rands.
As a jazz and tango musician, Gabe has worked with great artists such as John Lindberg, Peter Soave, Tad Weed, Ed Sarath, Chris Howes, Andy Bishop, and is a founding member of The Oblivion Project.
A native of Detroit, Michigan, Gabe began his violin studies at age three. His primary teachers were Michael Avsharian of Ann Arbor, Paul Kantor at the University of Michigan, and Donald Weilerstein at the Cleveland Institute of Music. Gabe earned a bachelor's degree in violin performance and a master's degree in chamber music, as well as studying improvisation at the master's level, at the University of Michigan. At the Cleveland Institute he earned a Professional Studies degree, served a year as Professor Weilerstein's teaching assistant and won the school's prestigious Darius Milhaud prize. He attended the Aspen Music Festival from 1991–98 on fellowship, first playing with the Aspen Chamber Symphony and then the Aspen Contemporary Ensemble for four years. During those four years he premiered hundreds of new works, and with his group, Non Sequitur, conducted workshops and concerts for thousands of students in the Aspen valley as well as at schools such as Harvard, Dartmouth, Brandeis and Princeton.
Gabe has released seven CDs that show his breadth as a musician. His debut solo album, This and That, features classical and jazz music. Other albums include The Shape of Klez to Come with the klezmer group Into the Freylakh; The Orchestra Is Here to Play, a live recording teaming the Gemini children's-music group with a full orchestra; The Oblivion Project Live, showcasing the music of Astor Piazzolla; Non Sequitur, contemporary and experimental music, including one of his own compositions; Home from Work, an eclectic mix of jazz, folk and blues in collaboration with San Slomovits, and as sideman on John Lindberg's recording Two by Five.
His most recent CD is Bonne Nuit, which includes the Debussy Sonata and other small works for violin and piano with Michele Cooker, and can be found here.
Gabe was guest artist at The University of Michigan in Ann Arbor teaching violin and chamber music for six years.  He has worked with all ages of young musicians in most of the 50 states and parts of Asia.  He is the executive director of The Phoenix Ensemble, a nonprofit organization dedicated to being a musical resource for artists and educational institutions. He still directs PhoenixPhest! and PhoenixPhest! Grande, two amateur chamber music festivals held each May and August, and maintains a private violin studio.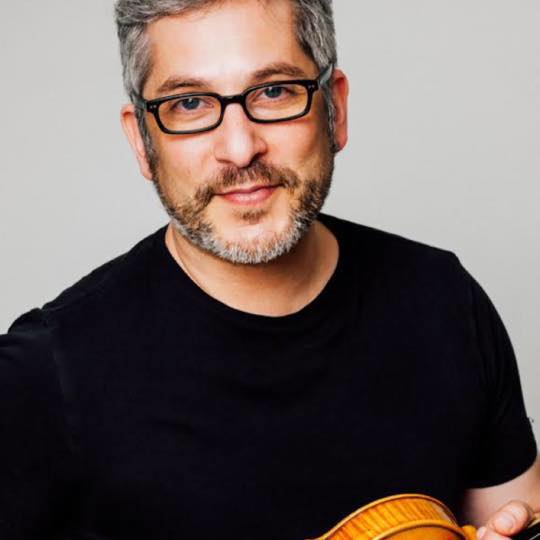 Susan Crawford, Violin
Susan Crawford studied violin with Makoto Kaneshiro, Almita and Roland Vamos, Burton Kaplan and Jorja Fleezanis. A lover of music and life-long learning, Susan has pursued her passion for enrichment through many music festivals and seminars such as Meadowmount, Aspen, Round Top, Magic Mountain, and the Juilliard Delay Symposium. After receiving her performance degree, she has continued her equally strong passion for pedagogy through in-depth study with many leaders of the Suzuki community. Her major influences have included Kay Sloan, Alice Joy Lewis, Ronda Cole, Ed Sprunger, Carol Dallinger and Brian Lewis. It was the depth of creativity, positive life-giving philosophy and love for music and children that she discovered within the Suzuki Community that has continued over many years to fuel her love for teaching. She is very grateful to be a part of this community. Susan teaches at Carleton College and is on the Suzuki faculty for both MacPhail Center for Music and Northern Lights School for Strings in Minnesota's Twin Cities. Susan is a frequent clinician at institutes and workshops around the country fulfilling her dream of furthering talent education. Her students have won many awards and are continuing their studies at programs including Juilliard, Northwestern and Oberlin. Susan is a member of Minnesota Sinfonia, has been the concertmaster for the Ordway Music Theater's Broadway series for many years, and enjoys an active freelance career.
Rolando Freitag, Violin
Orlando Suzuki Music School
Rolando Freitag is a registered Violin Teacher Trainer with the Suzuki Association of the Americas (SAA). He currently serves on the SAA's Board of Directors as the 2019-2021 Chair-Elect, and as director for the Florida Music Institute. He has extensive experience working with students of all ages and ability levels, and has taught lessons, workshops and teacher training courses throughout the Americas. Save & Exit
Mr. Freitag earned his M.M. in Violin Performance from Penn State University, and his B.M. in Violin Performance from Shenandoah Conservatory. In addition, he holds the Certificate of Achievement from  the Suzuki Association of the Americas, an award given to teachers who demonstrate outstanding commitment to excellence in their teaching.
At the Orlando Suzuki Music School he offers Suzuki Teacher Training courses as well as individual and group lessons
Susan Baer, Violin
Susan Baer is a freelance violinist and violin teacher residing on Whidbey Island in Washington State. In her four decades of experience with the Suzuki method, Susan has run a thriving private studio, co-founded a Suzuki school, organized workshops, taught in a long-term training program, and served on the board of directors of her local foundation. Susan is in high demand as a Suzuki clinician and registered SAA violin teacher trainer. She has served as area coordinator for six SAA conferences, has been published in the SAA journal, and has served two terms on the SAA Board of Directors. Dr. Baer holds a Bachelor of Music Education degree, a Master of Music degree in violin performance, and a PhD in fine arts.
Irene Mitchell, Violin
Irene Mitchell was fortunate to experience a diversity of cultures in her youth, living in ten countries throughout Latin America, Europe and Asia. This shaped her appreciation for a wide range of music, eventually leading her to earn a BM and MME at the University of North Texas. After exploring theatre, violin performance and orchestral conducting, she discovered her life-long passion in teaching the Suzuki method. Irene studied twice with Dr. Shinichi Suzuki at the Talent Education Institute in Matsumoto, Japan; returning to establish Suzuki Strings of Dallas in 1981. Irene serves as a clinician for Suzuki programs throughout the world.
Daniel Gee Cordova, Viola
Daniel Gee Cordova currently resides in Austin, Texas where he directs the Austin Suzuki Music School which offers Suzuki Violin and Viola study for all ages as well as Suzuki Early Childhood Music for children ages 0-3. Daniel is the director of the Greater Austin Suzuki Institute, which had its inaugural year in 2013.
Daniel Gee received his degrees in Music Education from the Crane School of Music at the State University of New York College at Potsdam and the Butler School of Music at the University of Texas at Austin where he studied with Dr. Sarah Hersh, Brian Lewis, Dr. Laurie Scott, Sandy Yamamoto, and with viola study with John Largess. Daniel's Suzuki training has included study with Dr. Sarah Hersh, Linda Fiore, Nancy Lokken, Teri Einfeldt, Ed Sprunger, Doris Preucil, Mark Mutter, William Preucil, Bill Dick, Dr. Laurie Scott, Betsy Stuen-Walker, Ed Kreitman, Allen Lieb, and Cathy Lee. He has also taken three stages of Suzuki ECE training with Dorothy Jones and cello books 1 and 2 with Melissa Kraut. 
Daniel is an active clinician giving presentations at National Conferences as well as being a guest teacher at workshops around the country. He has presented at the Suzuki Association of the Americas conferences, ASTA conference, Texas Music Educator's Conference, and the Texas Orchestra Director's Association Conference, and participated in the SAA Parents As Partners (2012, 2013, 2016). Daniel has been invited to guest conduct the Texas Region Middle School String Orchestras for Region 11 in San Antonio and Region 18 in Austin. 
Daniel served as the Orchestra Director at Chisholm Trail Middle School in Round Rock ISD from 2009-2019, which served about one hundred twenty sixth grade violin, viola, cello, bass and harp students. In the summers, Daniel has been on faculty of various Suzuki Institutes such as the Intermountain Suzuki String Institute, the Japan-Seattle Suzuki Institute, Chicago Suzuki Institute, Acadiana Suzuki Institute, and the Northern California Suzuki Institute.
Daniel Gee Cordova serves as the Assistant Principal Viola with the Austin Opera. Outside of teaching and performing, he enjoys spending time with husband Jerry and their two terriers, Bamboo and Tristan.
Shu-Yi Scott, Cello
Shu-Yi Scott, originally from Taipei, Taiwan, has given master classes, seminars and performances in the States, Taipei, Shanghai, Mexico, and Europe. She is a group class technique fellow and has been involved in developing GCT training with Cary Beth Hockett. Dr. Shu-Yi Scott was awarded the Certificate of Achievement through the Suzuki Association of the Americas in 2015 and Suzuki cello teacher trainer in 2019.
Dr. Scott holds a MM in cello performance from Penn State under Dr. Kim Cook and DMA in cello performance from the University of Texas at Austin under renowned pedagogue Ms. Phyllis Young .
Teaching beginning students from the age of 3 to advanced high school cellists, her expertise and patience excels students from all musical backgrounds.  She uses her knowledge of child development to creatively target the needs of her students, keeping them motivated and growing.  Her private lessons, group class offerings, and parent education nights help to foster a community of  lifelong musicians.
Her hobbies include gardening, sourdough baking , learning Japanese and French, and world travel. She lives in Austin, Texas with her bass player husband and she homeschools her daughters Euna, and Lydie, both play the cello.
Kathy Almquist, Viola
Kathy Almquist is a graduate of the Hartt School of Music and Yale University. Her teachers include violists Patricia McCarty, Harold Coletta, Lawrence Dutton and Jesse Levine. An experienced orchestral player, she is a former member of the Hartford Symphony Orchestra and has also performed in the orchestra of the The National Opera of Finland and the Rhode Island Philharmonic.
Passionate about teaching, Kathy has extensive training in Suzuki Method in both viola and violin, including Long Term Training with Teri and David Einfeldt. Past teaching positions include the Hartt School Suzuki Program, the Suzuki School of Newton as well as being viola faculty and Upper String Coordinator of the Intensive Community Program of the Boston Youth Symphony.
Her students have been recipients of awards from the Virtu Foundation and the Rosemary Glyde Scholarship from the New York Viola Society. Two of her viola students have been featured on the Public Radio program "From the Top." Former students have moved on to Colleges and Conservatories including, Curtis Institute, The Julliard School (both college and pre-college), Harvard University, Amherst College, University of Michigan, The Shepard School of Music and Northwestern University.
In Fall of 2019 she joined the faculty at the Suzuki Music Institute of Dallas, after several years of having her own thriving private studio in Ann Arbor which included violin and viola students from age 4 through high school. She is in demand as guest clinician at Suzuki Workshops and summer Institutes and is presently the viola faculty at the Lone Star Young Artists Program.
Rodrigo Pessoa, Cello
Since 1996, Mr. Rodrigo Pessoa has successfully taught thousands of students in private schools, music projects, lab schools, and Suzuki Method Studios in Brazil and USA. He is currently living in Lubbock, attending Texas Tech University as a student of the Doctor of Musical Arts Program in Cello Performance, under renowned cellist, Professor Jeffrey Lastrapes.
Mr. Pessoa holds a Bachelor in Music Education from the Federal University of Sao Carlos (Sao Paulo—Brazil). He received his Master of Music in Cello Performance at University of New Mexico under Dr. David Schepps. While there, he was awarded the Abe Franck Graduate Assistantship,  as the cellist of the Abe Franck String Quartet, and he also held the position of Principal Cellist at the UNM Symphony Orchestra. Currently, Mr. Pessoa is a teaching assistant at Texas Tech University and master teacher with the TTU Strings Project.
Mr. Pessoa also uses traditional methods in relation to orchestra playing and includes the student's repertoire as primordial in the learning process.