MARDI GRAS WORKSHOP
2023 Clinicians
We are honored to announce our clinicians for the 2023 Mardi Gras Workshop:
Mark Mutter, Violin
Mark Mutter is a registered Teacher Trainer with the Suzuki Association of the Americas. He received his Bachelor and Master of Violin Performance studying with Walter Schwede, Angel Reyes and Camilla Wicks. His orchestral career began in Hong Kong as the Assistant Principal Second Violin of the Hong Kong Philharmonic. He also taught at the Hong Kong Academy for the Performing Arts. Mark studied Suzuki pedagogy with John Kendall, Ronda Cole, Teri Einfeldt, Jacquie Maurer and Geri Arnold. He is the Executive Director of the Suzuki Music Academy of Michigan formerly known as Suzuki Royal Oak Institute of Music. He oversees 10 teachers that teach over 150 students. He has been a clinician at Workshops and Institutes throughout the U.S. and Asia. Mark has led the SMA Tour Group on concert tours throughout Europe and Canada as well as two performances in Carnegie Hall. He is presently on the conducting staff of the Wu Family Academy, the Detroit Symphonies youth orchestra program. He conducts the Concert Orchestra and Pizzicato String Ensemble.
Allen Lieb, Violin
Allen Lieb holds a M.M. in Performance from Southern Illinois University/Edwardsville, receiving his Suzuki Pedagogy emphasis with John Kendall. He graduated from the Talent Education Institute in 1979 after completing two years of study with Shinichi Suzuki. Allen has been a registered Teacher-Trainer with the Suzuki Association of the Americas since 1981. He has taught at institutes, workshops and conferences across the United States, Canada, Central America, Europe, Asia, Australia and New Zealand. He is CEO of the International Suzuki Association, Chair of the ISA Violin Committee. Chair of the SAA Violin Committee and a member of the SAA Heritage Committee. Residing in New York City, Allen is Head of the Violin Department and Instructor for Teacher-Training at The School for Strings, violin instructor at The Diller-Quaile School of Music, and a string consultant for the VH1 Save The Music Foundation.
Kathy Almquist, Viola
Kathy Almquist received a Bachelors Degree from the Hartt school and a Masters degree at the Yale School of Music. Her viola teachers include: Patricia McCarty, Harold Coletta, Lawrence Dutton, Rosemary Glyde, Jesse Levine and Scott Nickrenz.
After completing studies at Yale, she went on to Long Term Suzuki Teacher Training in viola as well as violin with Teri and David Einfeldt at the Hartt School of Music. Suzuki training continued with Carol Smith, Carrie Reuning Hummel and Elizabeth Stuen-Walker. She has been a faculty member of The Hartt Suzuki Program, The Suzuki School of Newton and was Upper Strings Coordinator and viola faculty for Intensive Community Program of the Boston Youth Symphony Orchestras. Kathy is a frequent guest clinician at Suzuki Workshops and Summer Institutes.
A former member of the Hartford Symphony Orchestra, she often performs with the Rhode Island Philharmonic Orchestra and has been a substitute player at the National Opera of Finland.
In addition to principal players at the Boston Youth Symphony Orchestras, her students include a featured violist on Public Radio's From the Top, a 2011 Virtu Foundation Scholarship recipient, the winner of the 2010 Rosemary Glyde Scholarship from the New York Viola Society, the 2009 winner of the A-muse the World Competition, as well as a semi-finalist in the 2008 New England String Ensemble Concerto Competition.
Current and former students have continued their studies at such places as Harvard University, Amherst College, Oberlin College, The Shepherd School of Music at Rice University, Bates College, University of Michigan, the Walnut Hill School, Meadowmount and the Tuscia Opera Festival in Rome, Italy.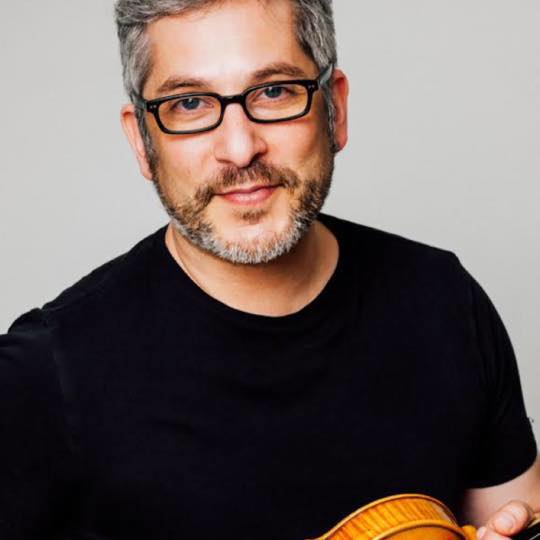 Gabriel Bolkosky, Violin
Violinist and violist Gabe Bolkosky has performed and taught across the United States, and abroad, working with all ages of musicians. He recently pioneered an online approach to music-making and collaboration from home. His organization, Education for Happiness, recently launched PhoenixPhest Virtual Online Chamber Music Immersive, culminating a 20-year in-person program. His focus educationally has been to help musicians in all developmental stages and levels of interest with a focus on inclusion. Primarily a violinist, he performs a diverse repertoire of classical and contemporary works with different collaborative artists from many musical genres in many of the great concert halls. As a violist, Gabe helped found the Bayberry String Quartet in 2018 and continues to play in this group with his wife Steffani. To date, Gabe has released seven recordings that show his breadth as a musician focused in the areas of contemporary music, jazz, and nuevo tango as well as traditional classical music, with plans to expand into the world of DAW and BandLab. Over the last two decades, Gabe served as the executive director of The Phoenix Ensemble, a nonprofit organization dedicated to warm-hearted and compassionate arts education.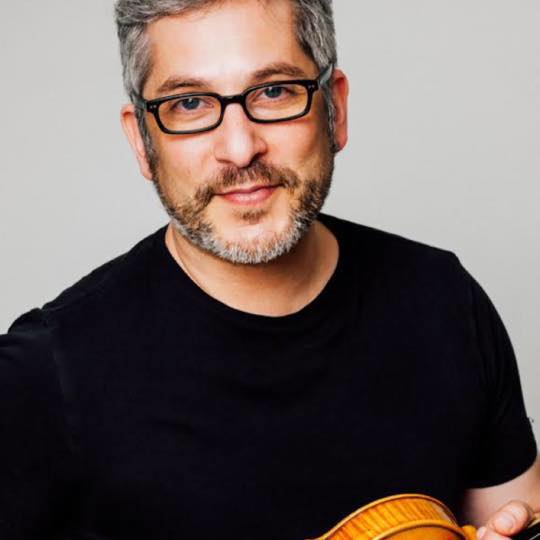 Joanna Binford

, Viola
Joanna Binford is currently a viola and violin instructor with the Suzuki Strings Program at the Academy of Music, based in Norfolk VA. She freelances in the Hampton Roads area and performs frequently with the Virginia Symphony.
M.M in Viola Performance, B.M. The University of Kentucky; post degree viola studies with Paul Neubauer (The Juilliard School); solo and chamber music studies included participation at Banff and Kneisel Hall summer festivals, violist of the Endless Road Strings, Niles Graduate String Quartet (Univ. of Kentucky) and participation in the Lexington Baroque Ensemble.
Awarded the Kentucky Chapter of the American String Teachers Association 2013 "Outstanding Service" award and District 7 KMEA "Outstanding College/University Music Teacher of the Year", she is a sought after Suzuki institute and workshop clinician around the country. Ms. Binford is a member of the Suzuki Teachers Association of Hampton Roads. She prepared viola students to perform on the STAHR tour of Peru (June 2014). In addition to her Suzuki classes, Ms Binford also teaches a Fiddling in D class, coaches chamber music and offers an Improvisation Techniques Workshop, upon request. She is featured on several recordings, including the 2016 release of "Almost Home" by the Endless Road Strings, an ensemble specializing in alternative styles.
In addition, Ms. Binford has served as a back-up musician for celebrities such as Arlo Guthrie, Mark O'Connor, Dave Brubeck, Anne Murray, Bob Hope, Ray Charles, Rod Stewart, Ray Price, David Gates, Dinah Shore, Ann Hampton Callaway, Natalie Cole, Stewart Copeland, and the Moody Blues. As a member of the Lastinger Ensemble, she appeared in the movie Simpatico, which starred Jeff Bridges and Sharon Stone.
James Hutchins, Violin
James Hutchins lives in Silver Spring, Maryland, with his wonderful and gorgeous wife and his fabulous and entertaining son. He grew up in the Suzuki Method, has been a Suzuki teacher for over 25 years and is a proud Suzuki dad. James is a registered teacher trainer who has taught at workshops, institutes and classes around the world, including South Korea, Iceland, Peru, Lithuania, Singapore, Malaysia, Australia, Bermuda, the Bahamas and throughout the States. In 2018, James was a guest Clinician at the 67th Suzuki Method Summer School in Matsumoto, Japan. His studio has performed for former Secretary of State and First Lady Hillary Clinton at the White House, at the National Zoo, the U.S. Capitol,the Maryland State Capitol, the Lincoln Memorial, the National Aquarium and on the Millennium Stage and with the National Symphony at The Kennedy Center. They have also played the National Anthem for the Baltimore Orioles, Washington Wizards and Nationals. James also had the honor of performing for Dr. and Mrs. Suzuki at their home in Japan.
Donna Davis, Cello
Donna Davis has been teaching the Suzuki method for over 27 years. After taking her first Suzuki workshop while still an undergraduate, she began her teaching career in Connecticut working with Diana Tillson, one of the pioneers of the Suzuki method in America. The founding cello teacher of the Bethwood Suzuki School in Woodbridge, CT, she taught for 3 years before moving to Erie, PA. Teaching at Mercyhurst College, Donna established the cello program and an extensive early childhood music program. Donna has been a certified Music Together teacher for over 10 years. A Texan for the last 15 years, she maintained a private studio in San Antonio before moving to Plano 5 years ago. Conducting and working with youth orchestras is one of her passions. She has conducted for the Young Artists Philharmonic, CT, Greater Erie Youth Orchestra and the Youth Orchestra of San Antonio. Donna continues to freelance and play chamber music throughout the United States. Donna is the creator of the Kodomo Music program for infants and toddlers and directs the Kodmo program at SMID She is also the Director of the DFWWOW Summer Institute. She is married to Jolyon, a cellist and has a 17year old cellist son, Alexander.
Rolando Freitag, Violin
Rolando Freitag is a registered Violin Teacher Trainer with the Suzuki Association of the Americas (SAA). He currently serves on the SAA's Board of Directors as the 2019-2021 Chair-Elect, and as director for the Florida Music Institute. He has extensive experience working with students of all ages and ability levels, and has taught lessons, workshops and teacher training courses throughout the Americas. Save & Exit
Mr. Freitag earned his M.M. in Violin Performance from Penn State University, and his B.M. in Violin Performance from Shenandoah Conservatory. In addition, he holds the Certificate of Achievement from  the Suzuki Association of the Americas, an award given to teachers who demonstrate outstanding commitment to excellence in their teaching.
At the Orlando Suzuki Music School he offers Suzuki Teacher Training courses as well as individual and group lessons
Molly Goforth, Cello
Molly Goforth is a cellist and teacher based in the Lafayette area. She is principal cellist with the Baton Rouge Symphony Orchestra and also plays with the Acadiana Symphony Orchestra. She teaches applied cello lessons at the University of Louisiana at Lafayette and at McNeese State University. As a performer, she gives regular chamber music and solo performances throughout Louisiana.
Molly received her Master's degree in cello performance from DePaul University in Chicago and her Bachelor's degree from University of Louisville. Her teachers have included Stephen Balderston, Alan Harris, Craig Hultgren, Alice Ann O'Neill and Paul York.
Nicolette Solomon, Violin
Nicolette Solomon, Director Emeritus of the Suzuki Music Institute of Dallas, was born in Laingsburg, South Africa. She began her violin training with Neil McKay in Port Elizabeth, continuing her studies with Pierre de Groote at the College of Music in Cape Town, and completing her University studies under the tutelage of Alan Solomon. She obtained a Bachelor of Music (Honors) and Higher Education Diploma (Post Graduate) at the University of the Witwatersrand in Johannesburg, South Africa.
In 1975 she played at the International Festival of Youth Orchestras in Scotland and later toured Europe and Israel. She has played in the International Festival Orchestra at the Royal Albert Hall, London and performed in Israel, Taiwan and Hong Kong with Harmonia Juventia. She studied Chamber Music from 1974–1981 with Betty Pack and Alan Solomon. She has also been both an Adjudicator and Examiner for music competitions and examinations in South Africa and the USA. After her introduction to the Suzuki method, she became a fervent proponent and pioneer of the method in South Africa, founding and directing the Solomon Suzuki School in Johannesburg in 1980. She expanded her training with Christophe Bossuat in Lyon, France, and in 1992 she studied with Dr. Suzuki himself at the Talent Education Research Institute in Matsumoto, Japan. While in Japan, she taught at a private studio in Nagano City, Japan and at Shinshu University. In 1994, she attended the International Strings workshop in France, playing in the Eduard Melckus Baroque Ensemble. She has led violin and viola workshops and master classes internationally, and trained and conducted String Orchestras in South Africa, Ireland, New Zealand and throughout the USA and Central America. In 2000 she emigrated to the United States, where she served as string specialist and then Director of the Suzuki Music Institute of Dallas. She is married to Carl van Wyk, has 2 adult children and two grandchildren, and divides her time between their home in Dallas, their retreat in Dripping Springs and her teaching commitments internationally.